Products
Living Waters Baptismal

Font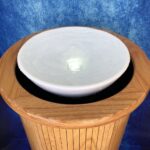 Living Waters Baptismal font is unique because it creates flowing water, adding life and sound. In addition, every baptismal font comes with a choice of two water effects. First, the vibrant "Gushing Spring" creates a highly visible effect, which can be seen and heard even from a distance. On the other hand, the "Crystal Pool" creates a very smooth and quiet water effect, which is calm and peaceful. And finally, every baptismal comes with an integral underwater light which emanates from water's source.
Baptismal Cabinet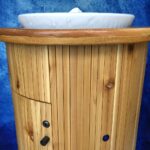 Living Waters Baptismal is available as standard in a solid cedar, or oak cabinet. In addition, six coats of clear satin polyurethane make the cabinet virtually waterproof. However, customizing, using different woods, stains, and finishes is possible, and can be requested on Contacts page. Furthermore, all cabinet hardware is concealed with access door and control switch flush-mounted.
Self-Contained System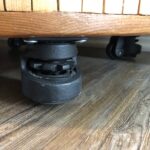 Every Living Waters Baptismal is a complete system. Water recirculates using a stainless steel pump. In addition, an internal fan cools and controls humidity. And above all, baptismal is completely safe, using low-voltage control system, and a ground fault circuit interrupter. Similarly, leveling casters make baptismal both portable, and easy to level and secure.
Baptismal Options
Three standard options are avilable for every Living Waters Baptismal font. First, an adjustable water heater can warm water to body temperature for baptizing babies. Second, a matching lid can add beauty, and keep baptismal clean. And finally, a longer cord length insures baptismal can be set in the perfect place, regardless of electrical outlet location.
SHOP PRODUCTS
Click on any product below for full description and specific features.
Showing all 7 results