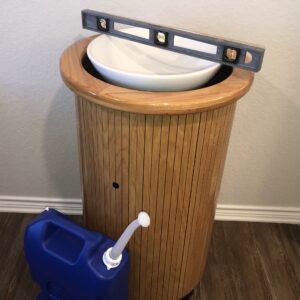 Baptismal setup and operation is quick and easy, requiring no special tools or skills. A YouTube video is provided to illustrate the entire process. The video also shows how to change water effects. An Operating Manual in PDF format is also available below for download.
How to Setup and Operate Baptismal Instructions
Time needed: 10 minutes
Level Baptismal
Place level on white basin with ends directly above two casters on opposit sides of the baptismal. Next, adjust leveling thumbwheels until bubble is centered between lines on level. Then, turn level 90 degrees, and repeat process to level the other casters. Check both positions again to insure baptismal is level and stable.
Install Water Effect
Install water effect device. (Instructions shown below.)
Verify Drain is Closed
Verify drain valve's blue handle is aligned parallel to floor, and not vertically aligned parallel to hose outlet.
Fill with Water
Slowly pour four (minimum) to five (maximum) gallons of CLEAN water into the white basin.
Verify Switch is OFF
Verify power switch button is OUT (OFF position), and not IN (ON position).
Run Power Cord
Run power cord and plug through the opening in bottom of cabinet, and plug in to an electrical outlet. Red light on plug should come on. If not, then push the "reset" button on plug.
Turn ON
Push power switch button IN to turn ON the baptismal. Button with latch in the IN (recessed) position, and water will begin flowing.
Turn OFF
Push the power switch button again to turn OFF the baptismal. Buttom will unlatch, returning to the OUT position, and water will cease flowing.
Replace Lid
Place lid on baptismal. WARNING! Never operate baptismal with lid in place.
Disconnect Power
Unplug and store power cord when baptismal is not in use. Children may push power button while lid is on.
Changing Water Effects
A Living Waters Baptismal has two water effects. They include the "Gushing Spring" and the "Crystal Pool". The "Gushing Spring" requires removal of the diverter disc, and mounting shaft. If installed, they are located at the water inlet in the bottom of the white basin. To remove, simply unscrew the diverter disc and mounting shaft. After removal, store them on the access door frame.
The "Crystal Pool" comes with a choice of solid and clear diverter discs. Install by screwing one of the diverter discs onto the mounting shaft. Then screw the assembly into the threaded mounting hole in the water inlet of the white basin. Hand tighten only.
How to

Setup and Operate Baptismal Video
The YouTube video below illustrates the baptismal setup and operation. It also shows how to change the water effects.
Related Posts